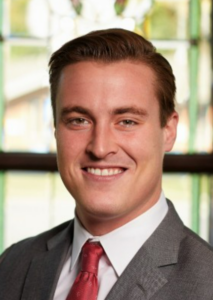 Ben is a transactional attorney who focuses his practice on franchise law, commercial contracts and transactions, and general corporate and organizational matters.
Ben represents a broad range of franchise companies, from emerging brands to mature brands, in various industries. He provides ongoing support and assistance to franchisors through all phases of development and operations.  He assists franchisors of emerging brands navigate the complexities of developing a franchise program.
Ben's practice brings the firm broad-based experience in representing franchisors and franchisees, as well as buying and selling businesses and other general business transactions. Having been in private practice and having served as in-house counsel for a Fortune 500 corporation, Ben understands the issues faced by large and closely held businesses alike, throughout a wide variety of industry sectors.
Ben has experience providing advice and counsel to business organizations and their owners regarding business entity selection, formation, and start-up; commercial contract drafting and negotiation (i.e. franchise agreements and Franchise Disclosure Documents); commercial/retail leases; trademarks and licensing; data privacy laws; general employment matters; regulatory and compliance matters; secured transactions and debt collection; merger, acquisition, and divestiture transactions; corporate governance; and general business succession planning.
Prior to joining the firm, Ben was an associate attorney in the Chicagoland area focusing on franchise and business law. In addition, Ben previously served as in-house corporate counsel for Harley-Davidson Financial Services (HDFS), primarily supporting HDFS's consumer and commercial lending businesses and regulatory affairs.
Ben graduated from Chicago-Kent College of Law and received his Bachelor of Arts degree, summa cum laude, from Elmhurst University (formerly Elmhurst College).
Ben has been licensed to practice law in the State of Illinois since 2016.
Recent Publications and Presentations
-Co-authored two sections in the treatise, Financial Products: Taxation, Regulation & Design. 
Citation: Van Airsdale, B. (2018). § 1.11 Private Placements Under Regulation D, § 1.12 Securities Based Crowdfunding. In A. S. Kramer (Eds.), Financial Products: Taxation, Regulation & Design (Vol. 1, 3rd ed.). Aspen Publishers