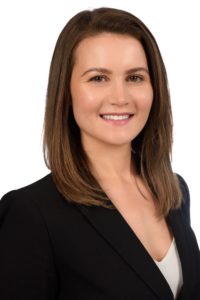 Brenn is a business attorney who clients know they can count on for responsiveness and efficiency as much as the reliability of her counsel.  Brenn's practice has been diverse across multiple practice areas giving her a wide range of experience and which allow her to assist clients in various matters.
Concentrating her practice in corporate law and business transactions, Brenn takes pride in understanding each client's operations, industry, needs, and concerns to develop creative solutions and approaches tailored to achieve their specific objectives.  Brenn works closely with business owners across many industries to advise them on corporate structuring and planning, asset and stock sales, mergers and acquisitions, operating agreements, commercial leasing, business licensing and franchise matters.
Brenn counsels business owners and start-ups in connection with their formation and corporate development and corporate governance.  She works with entrepreneurs and companies across various industries in all stages of their business development.  Brenn drafts and negotiates franchise agreements, development agreements, licensing agreements and partnership agreements. She conducts due diligence and executes on all relevant agreements necessary to facilitate business acquisitions and sales.
Brenn is a graduate of Husson University who earned her law degree from the University of Maine School of Law.
Prior to joining Marks & Klein, Brenn also practiced in the areas of business law, residential and commercial real estate, commercial litigation, civil litigation, employment discrimination, and commercial fraud.
Brenn is licensed to practice in New York and New Jersey.